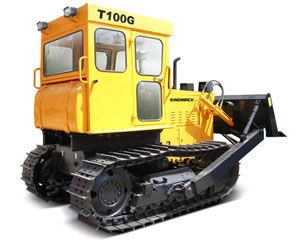 T100G Crawler Bulldozer
Features of T100G Crawler Bulldozer
1. Our T100G crawler bulldozer is equipped with the powerful and fuel efficient YTO LR6A3-23 diesel engine. This engine offers all power the earth moving equipment needs for travel, counter rotation, materials pushing, etc.
2. With state-of-the-art power shift transmission that allows ground speed to match to the load, this push dozer can fit for specific applications and terrain conditions. See detailed specifications of this tracked dozer from the following table.
Technical Parameters of T100G Crawler Bulldozer
Main Technical Specifications
Total weight
10400kg
Dimension
Total length
4190mm
Total width
2908mm
Total height
2982mm
Track gauge
1650mm
Track shoe width
450mm
Dozer Blade
Width × Height
2908×960mm
Max. lifting height
830mm
Max. embedded depth into soil
370mm
Cutting angle (adjustable)
55°
Max. drawbar pull
95kN
Ground pressure
54.4kPa
Diesel Engine
Engine
Model
YTO LR6A3-23
Rated power
81hp
Rated rotor speed
2300rpm
Theoretical speeds of all gears
Forward Gear I - IV
2.6~10.3km/h
Backward Gear I - II
3.7~6.7km/h
Fuel consumption of the engine
≤242g/kw.h
Engine max. torque
400N.m