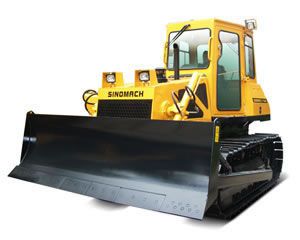 T120N Crawler Bulldozer
Features of T120N Crawler Bulldozer
1. The tracked bulldozer made by Sinomach is an industry leading dozer powered by the YTO LR6A3Z-20 diesel engine. Not only does this help the engineering vehicle achieve considerable fuel savings while maintaining high power, but it also contributes to boosting productivity and performance.
2. This crawler bulldozer is designed with an efficient power shift transmission which enables 4 speed forward and 2 reverse speeds.
Technical Parameters of T120N Crawler Bulldozer
Main Technical Specifications
Total weight
13000kg
Dimension
Total length
4535mm
Total width
3147mm
Total height
2900mm
Track gauge
1860mm
Track shoe width
500mm
Dozer Blade
Width × Height
3147×957mm
Max. lifting height
955mm
Max. embedded depth into soil
380mm
Cutting angle (adjustable)
55°
Max. drawbar pull
115kN
Land pressure
51kPa
Diesel Engine
Engine
Model
YTO LR6A3Z-20
Rated power
93hp
Rated rotor speed
2000rpm
Theoretical speeds of all gears
Forward Gear I - IV
2.4~10.6km/h
Backward Gear I - II
3.9~7.1km/h
Fuel consumption of the engine
≤246g/kw.h
Max. torque of the engine
526N.m