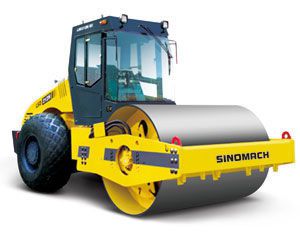 LSD214H Hydraulic Vibratory Single Drum Road Roller
LSD214H Hydraulic Vibratory Single Drum Road Roller
Hydraulic Single Drum Vibratory Rollers LSD214H
Hydraulic vibratory rollers are suitable for compaction of non-cohesive materials such as gravel, crushed stone, sand-macadam mixture, sandy soil and rock filling etc. on base course, sub-base and embankment fill construction,which are ideal equipment for high-class highway, railway, airport, harbors, dams and large-scale industrial ground.
Features:
Powerful Cummins diesel engine; Optional diesel engine with electronic control.
Hydrostatic wheel & drum travel drive operated by a single lever at two range infinitely variable speeds.
Parking brake hydraulically mounted in central input of the driving axle with oil-cutoff braking for reliable safety .
Circle arc glasses cabin with air conditioner(option) and curve engine hood for unique streamline shape appearance.
Engine mounted with backward power output and turnover engine hood allow easy access to the main hydraulic components.
Main performance parameters
LSD214H
Operating mass
14000kg
Static linear load
373N/cm
Vibration amplitude
1.8/0.9mm
Vibration frequency
30/36Hz
Centrifugal force
290/200kN
Travel speed
10km/h
Gradeability
40%
Turning radius
6500mm
Drum width
2100mm
Drum diameter
1500mm
Wheelbase
3050mm
Ground clearance
472mm
Diesel engine model
Cummins 6BT5.9
Diesel engine power
110kw
Overall dimensions
6000mm×2250mm×2950mm
SINOMACH is a China-based hydraulic vibratory single drum road roller manufacturer. We provide various types of products such as a road paving machine, truck crane, crawler excavator and rotary drilling rig.