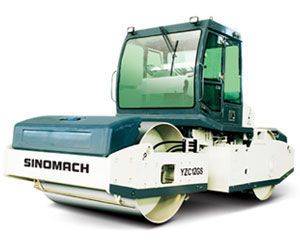 YZC12GS Mechanical Vibrating Double Drum Road Roller
YZC12GS Mechanical Vibrating Double Drum Road Roller
Double Drum Vibratory Rollers YZC12GS
Double drum vibratory rollers are of mechanical travel drive, hydraulic vibration, suitable for compaction of various stabilized soils and bituminous concrete and etc. on road surface construction, which are ideal compaction equipments for highway, municipal road and industrial ground.
Main features:
Mechanical travel drive of side transmission, hydraulic vibration and steering with three-gears travel speed for convenient transport between construction sites.
Dual operator seats and dual steering wheels with good sight line of side compacting.
The machine adopts Dongfeng-Cummins engine with large power reservation, low fuel consumption, good performance of exhaust and good starting feature.
Electric-controlled water spraying on front and rear drum surfaces.
Main performance parameters
YZC12GS
Operating mass
12000 kg
Static linear load
277/338 N/cm
Vibration amplitude
0.35 mm
Vibration frequency
48 Hz
Centrifugal force
120 kN
Travel speed
8 km/h
Gradeability
20%
Turning radius
7000mm
Drum width
1950mm
Drum diameter
1300mm
Wheelbase
3240mm
Ground clearance
300mm
Diesel engine model
Cummins 4BT3.9-C80
Diesel engine power
60 kW
Overall dimensions
5540mm×2396mm×3000mm
We are an experienced mechanical vibrating double drum road roller manufacturer and supplier in China. We also offer crawler crane, backhoe loader, hydraulic vibratory single drum road roller, truck crane, and much more.