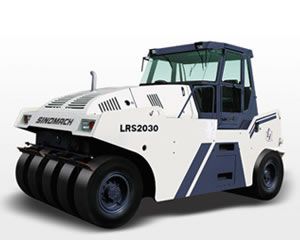 LRS2030 Pneumatic Tire Road Roller
LRS2030 Pneumatic Tire Road Roller
Pneumatic Tire Rollers LRS2030
Pneumatic smooth-tire rollers is suitable for compaction of various cohesive and non-cohesive materials such as sandy soil, crushed stone, stabilized soils, bituminous concrete and rolling cement concrete (RCC) on road surface construction, especially for final compaction of asphalt surface on high-class highway,which is super quality compaction equipments for high-class highway, airport, municipal road and industrial ground.
Main features:
Famous brand of diesel turbocharged and water-cooled engines with advanced performance.
Compact gearbox with speed-shift synchronous unit gearbox for advanced design and convenient control.
Power sprinkler system with corrosion free materials and 800L high capacity reinforced polyethylene water tank for extended operation.
Infrared vehicle video monitor system for convenient operations.
Unique beautiful and compact appearance with lower gravity-center.
Spacious and closed operator's cab with ventilating and air conditioning devices (optional).
Main performance parameters
LRS2030
Max. operating mass
30000kg
Min. operating mass
20000kg
Max. travel speed
20.5km/m
Tire number
5+6
Tire contact pressure
307~460kpa
Turning radius
8000mm
Rolling width
2790mm
Wheel overlap
50mm
Gradeability
20%
Diesel model
Cummins6BTA5.9
Diesel power
125kw
Diesel speed
2300r/min
Overalldimensions (with cabin)
4874mm×2790mm×3103mm
As a China-based pneumatic tire road roller manufacturer, we also provide skid steer loader, motor grader, crawler bulldozer, backhoe loader, and much more.