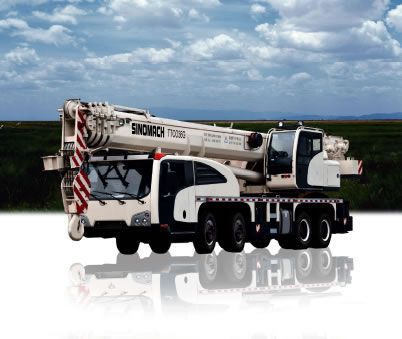 TTC036G Truck Crane
Description
1. The boom of the TTC036G truck crane is about 11m long while lifting with each section fully retracted. If the length of the boom is beyond the specified values, the truck crane with short boom generally has higher load capacity than that with longer one.
2. The weight of the hooks is included in the tabulated load. Therein, the main hook weighs 543kg and the auxiliary hook weighs 102kg. When the jib is extended, the rated lifting load capacity of the main boom should be reduced by 1500kg. When the main hook is at the head of main boom, the lifting capacity of the jib has to be reduced by 543kg.
3. If the head pulley is adopted, the rated lifting capacity at each section must be reduced by 543kg, but the maximum lifting capacity of the truck crane is 4000kg. As the main hook is used when the auxiliary hook is at the head of pulley at the end of the boom, the rated lifting weight of each part of the lifting boom should be reduced by 102kg.
4. When the fifth outrigger is not applied, the lifting angle is less than 120°. On the contrary, the hoisting machine keeps tabulated rated lifting capacity at 360°.

Parameters of Transmission Device and Engine
| | |
| --- | --- |
| Weichai power | wp10.300N |
| Emission compliance | National III emission standard |
| Number of cylinders | 6 |
| Aspiration | Turbocharged |
| Rated power | 221kw/1900rpm |
| Maximum torque | 1390Nm/1200-1500rpm |
| Estimated fuel consumption per 100km | 38L |
| Fuel type | Diesel |
| Fuel tank capacity | 300L |
| Lowest start temperature | -30℃ |
| Manual gearbox with ZF style air-boosted shifting | Manual air-boosted shift |